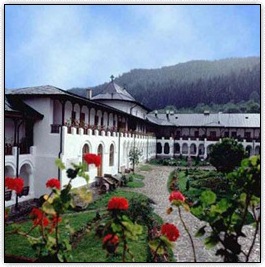 Agapia Monastery, Romania
A monastery or a convent is a community of monks or nuns living under a common rule governed by an Abbot (Abbess) or superior chosen from among professed monks. He rules like a loving father over his children, being assisted by a council of professed monks, to members of which he delegates certain powers and responsibilities. Apart from its life of prayer, which remains at all times the essential preoccupation of the monks, a monastery may harbor, as circumstances demand, the sick, the aged, the orphaned, the homeless, or perform any work of Christian charity.

All monasteries have a guesthouse in which the traveler can stay for the first three nights free of charge, paying guests may also be taken.